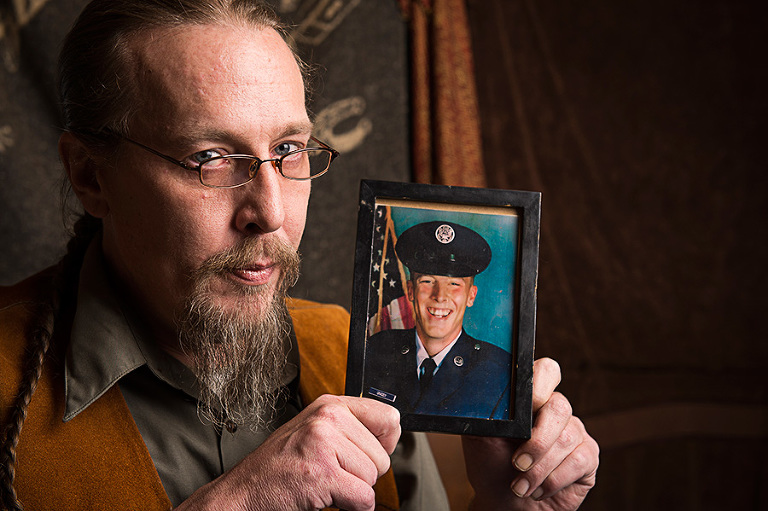 Michael Graddy joined the Air Force in 1986 at age 18. He liked the structure and discipline of the armed services and he wanted to see the world and serve his country. In 1989 he was moved to a forward air base in Turkey as part of the initial preparations for the gulf war. In the run-up to the war, he was required to take an experimental anthrax vaccine containing squalene. Little did he know that his life had just changed forever.  He became sick immediately and was in surgery within a week. After surgery he continued to get more sick and have arthritis-like pains throughout his body that the doctors could find no clear cause for. Eventually he was forced out of the service. Michael was a big strong kid up to this point. At over 6'7″ he participated in track, basketball and boxed in the Lodi, CA, boxing club. As a kid, he was never sick. Over 250,000 veterans from the first gulf war now exhibit the life-crippling symptoms of gulf war syndrome. Many of them have had their immunization shot cards mysteriously "lost." Only a small percentage have been given a diagnosis and received any benefits. Mostly they are told that their illness is all in their head….
There is a very good reason why you should care about this story. It could be you. It could be your son, or your best friend. You never know. I grew up with Michael and his identical twin brother Mark. They were fixtures in Lodi. They had paper routes, his mother was the editor of the Galt Herald. They were good people. Michael lost his identical twin brother Mark to a car accident about the time that his symptoms were kicking into overdrive. Loosing any sibling is bad, but an identical twin, that's like loosing part of yourself. In that same period he lost his mother to Lymphoma, two of his closest cousins, and an aunt, basically everyone that cared about him. To be honest, going through all that loss while suffering the effects of a mysterious illness that everyone is trying to convince you is in your head, well, it's no wonder so many veterans commit suicide.
After Michael was forced out of the Air Force, he worked in the private sector as an information technology technician for 20 years until his gradually failing health caught up to him. At this point Michael had all the classic signs of gulf war syndrome, arthritis pains, nerve pain, loss of memory and inability to focus, inability to sleep, loss of teeth and was beginning to show symptoms of ALS or Lou Gehrig's disease. Finally after being unable to work, he moved in 2010 to a plot of land left to him by a family member in Christmas Valley, Oregon, where he lives in a small shack on a dirt road. Although this is nearly 20 years since he left the Air Force, and despite suffering through ever increasing symptoms, this was the first time he was reluctantly forced to accept any government aid. Christmas Valley in Lake County is one of the poorer areas of Oregon, with 19.4% of the population below the poverty line, a 10.8% unemployment rate and over 20% of its residents on food stamps. It is also 2 hours one-way from the nearest VA hospital in Bend, and the years-long nightmare that Michael has been fighting just to get treatment and eventually a diagnosis for Gulf War Syndrome.
Michael is still waiting for his fMRI appointment, which keeps getting pushed back. Several recent studies that were big in the news in 2013 have shown that the fMRI can detect a definitive and repeatable brain abnormality associated with the symptoms of Gulf War Illness. However VA doctors have been extremely reluctant in authorizing them. Michael claims in this video, filmed in December of 2013, that the VA is lying about its service numbers and wait times. Currently headlines prove that fact, with the resignation of Robert Petzel, the Undersecretary of Veteran's Affairs in charge of Healthcare, and the ever expanding scandal.
It always makes me feel strange when I am walking near or with someone in uniform and a complete stranger runs up to them and thanks them for their service. It makes many of my veteran friends feel uncomfortable as well. If people are truly thankful, if they really care about these men and women and what they fight for, then we need to fight to make sure they are taken care of when they come home. Currently veteran's of the first gulf war are our forgotten soldiers. They are not eligible for many of the more progressive veteran's programs such as the Wounded Warrior project, because many of these programs only accept post 2001 veterans.
The only help they can hope to receive is that the VA is pressured into acting faster on their diagnosis and treatment, or that individuals decide to help on a one-on-one basis. If you are interested in helping Michael out, please visit his Go Fund Me page. It is currently about the only way he keeps gas in the car for the long trips to the Portland, OR, VA clinic.