by Scott and Monique
Hi there, Monique here, adding a few of my notes to this post about the Big Island of Hawaii! We decided to celebrate our 10 year anniversary with a trip that included some relaxing, and, of course, lots of adventuring as well. Since we honeymooned on Kaua'i, but neither of us had ever been to the big island, we decided to spend our 2 weeks exploring the "off the beaten path" areas of Hawaii. One of the most essential things to have for this endeavor is the book "Hawaii The Big Island Revealed."  We used the author's other book for our Kaua'i trip way back when, so we knew we could count on some secluded beaches and adventurous hikes without hordes of people. I planned the 2 weeks with the strategy of seeing as much as we could in the very different parts of the island. So the key to this plan was to stay 3 or 4 nights each in different areas of the island.
We started on the Kona side of the island, but since neither of us like crowds and the city, nor do we like the fancy-pants resort life, we opted to stay in a modest, quaint hotel in the lovely ranch town of Waimea. This was our home base where we just popped down the hill to explore some of the lesser visited beaches. A big bonus of staying in Waimea: The Big Island Brewhaus, a micro brewery with a variety of excellent beer on tap and tasty fresh mex food in a brightly colored, eclectic setting. We happened to be there on open mic night and were totally entertained by the talented musicians that happened to play that night. By the way, any of these pictures and more can be licensed for use simply by typing in "Hawaii" into the keyword field of my online photo archive and browsing for the photos you want.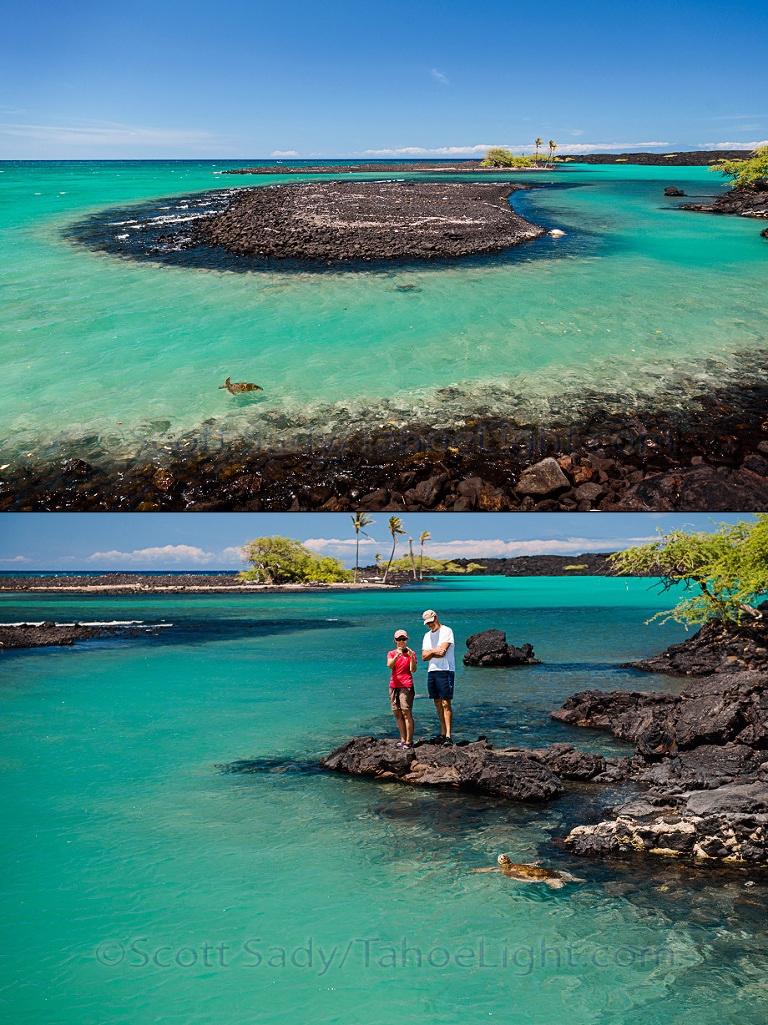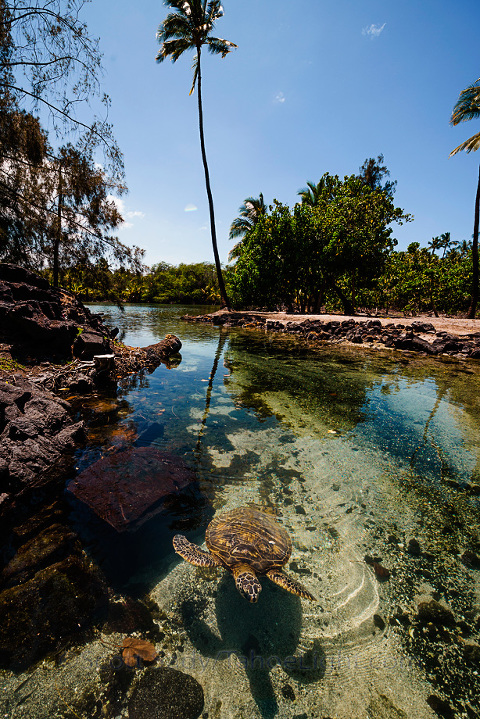 We then set out to Hilo, on the east side of the island. I really liked the town itself, it seemed much more laid back than the Kona side. We stayed at a bed and breakfast just north of town called the Hale Kai, I recommend it. We spent several days exploring waterfalls, fruit stands, farmers markets and parks. Make sure to check out the Hilo Palace Theater, built in 1925. Even if you don't see a show there, try to pop your head in and take a peek at this historic building.  The highlight of this part of the trip was our hike in Emesine Cave. About half way up on Saddle Road towards the middle of the island we parked the car along the side of the road and followed the directions in our trusty guide book to a pristine lava tube. It is a 5 mile round trip hike just to get to the opening of the lava tube. We estimated we then probably walked about another mile or so inside it. I can not even begin to describe what an awesome experience it is to be in this environment. We even saw a few sets of animal bones perfectly resting in their original shape of where the animals died. If you decide to do this adventure, remember to bring several headlamps and flashlights with you. We geeked out a bit with our light painting photography. But we also enjoyed the hike, and we even shut off our headlamps a few different time and experienced the blackest of all dark in the world. Whoa, it was pure black!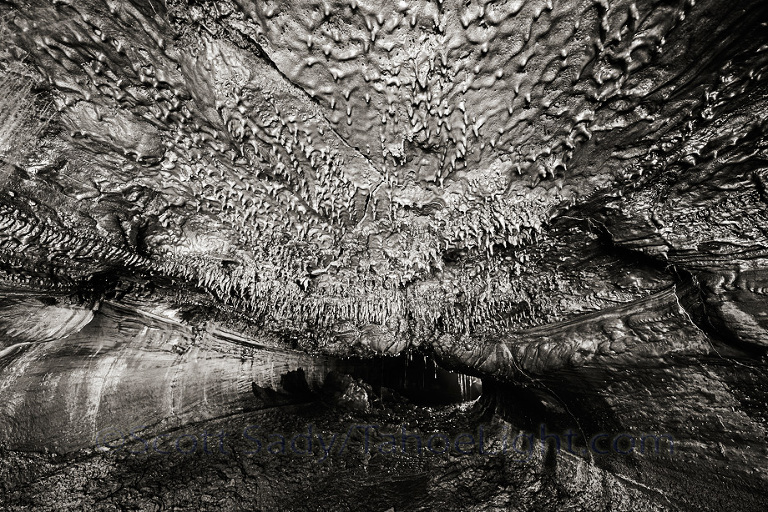 After spending some time in the Hilo area, I dragged Scott to a "hippy-dippy" retreat center in the Puna area called Kalani. He actually liked it! The food is amazing, and we did a few yoga class, and even an aerial silks class. Making this our home base, we were able to visit some of the interesting warm spring ponds in the area. This would have also been the perfect home base for seeing/ photographing the lava flowing in to the ocean, but it stopped doing that several months before we arrived.
Our next stop was Volcanoes National Park. We stayed at another Bed and Breakfast that I would also recommend called Hale Ohia Cottages. What a small, sleepy "town." We spent the days hiking on incredible lava formations through craters, and Scott spent each night photographing the milky way rising out of the glowing Halema'uma'u Crater.
After leaving Volcanoes National Park, we took a day trip to the south part of the island to see the green sand beach among a few other things. We stayed our last several nights South of Kona near the Kealakekua Bay in a bed and breakfast that I will not name because it was a pretty whacky experience! I am all for alternative, organic and back to nature, but the owner was so over the top, it was actually comical. Scott got a free crystal reading too! Our main efforts in this area of the island focused on getting up at sunrise each day attempting to find the wild dolphins that frequent several of the bays in this area. We snorkeled a lot around here too, and even swam what we estimated to be an ironman length swim across the Kealekekua Bay and back. On our final full day, we found a dolphin pod with about 6 or 7 adults and 2 babies that kept flipping out of the water. We waded in slowly since it is a no-no to harass them, and they naturally swam right near us several times. This was also one of the highlights of our trip!