by Scott
I have been ski racing for about 4 years now and made the decision early on to camp out when I was at Mammoth Mountain. It can be cold as hell in winter, I've had nights down to -19 F, but in winter, you have all the hot springs to yourself and it is easy to warm up and get to the hill. As the years passed and I figured out how to stay comfortable during the worst nights and where to find uncrowded hot springs and swimming holes, I have had plenty of opportunities to explore the area nearby. The more I explore, the more time I want to spend down there exploring. I have been a photojournalist for over 20 years working for the likes of AP and USA TODAY and for the last 8 years I have specialized in commercial photography, but my true love is the wild places and beauty of nature. I find landscape photography to be one of the most difficult things to do well. It is 45% hard work getting to unusual locations, 45% luck in hoping that the weather gives you something spectacular to work with and about 10% getting away from photographing what is in front of you and trying more to pre-visualize the end result and shoot interpretively. For me this has involved a lot of work with neutral density filters during the day and sunset hours and blending of exposures and focus points. And an whole lot of trial and error. So here is a quick look at some of my favorite places that you can reach in winter on the eastern side of the High Sierra, and high desert. The list is by no means complete. Any of these images and many more can be licensed from my online photography archive via keyword searches.
Working from north to south, Mono Lake is the obvious starting point. I don't photograph here a lot, mainly because everybody else does. Expect this place to be busy. When I pulled up there was an photo tour van full of about 20 older men with giant tripods. Inexplicably they all left an hour before sunset. Mono lake is really a crap shoot. If you don't get a spectacular sunset or sunrise, you don't really get a picture. If you do, you get an amazing picture assuming you compose and expose right. I see a lot of folks shooting into the sunset, which is fine if you are one of those uber HDR folks or going for a silhouette. I think the HDR function should cause your computer or camera to explode when enabled, but that's just me. As I was saying, you really need to look for a situation where the sky lights up away from the setting sun if you want anything other than HDR crap or a silhouette. Thunderstorms and sunrises during approaching storms are your best bet, but it is still a lot of luck. On my visit only a tiny portion of the sky lit up, but since it is only 20 miles from Mammoth, I will try again next year. Shoot in winter or during sunrise to avoid the crowds. Working with a 3-5 stop Neutral Density filter allows you to smooth out the water and give the scene a more dream-like feel. With longer exposures, you will need to set your self-time or use a cable release in order not to shake your camera when taking pictures. The water has receded so much recently that only a few spires are left in the lake. Remember not to walk or climb on these, they are very fragile.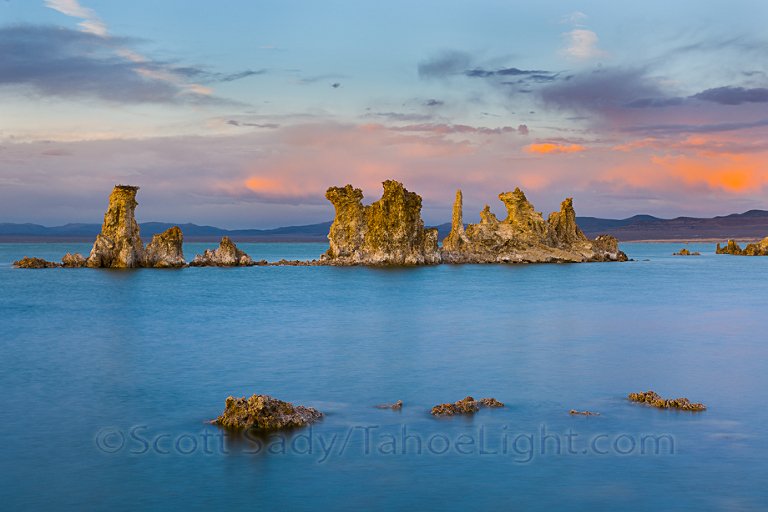 While skiing at Mammoth, I camp out in the Owen's Valley across 395. From my campsite I can get to areas of warm to hot water for sunrise or a soak, and have a clear view of mammoth mountain, which in these photos during this pathetic snow year, looks pretty sad. A word on camping etiquette: The Owen's Valley from north of Mammoth Lakes to Bishop is mostly BLM land. That means you can camp most anywhere and the camping is free. Besides rock climbing and fishing, the many hotsprings out here are the main attraction. The most common mistake people make that really pisses off the locals and may get you into some trouble is pitching camp right next to a hot tub. This is the biggest no-no ever. People will go out of their way to mess with you if you do this. Camping in the parking areas of the hot tubs is considered extremely lame since the tubs are for everyone to enjoy and parking areas nearby are small, but is still preferable to camping right next to the tubs. Instead, do what the locals and regular visitors do. Find a nice secluded spot with a great view away from the hot tubs, and drive or bike down for a soak. It used to be that only a couple of the tubs were well known enough to be crowded, but it seems that in the last year they have made their way onto Google maps, and now I see as many first timers as grizzled ski bums.
The Bishop area has a wealth of stuff to explore. It is a rock climbers paradise with the Happy and Sad boulder fields, as well as a fisherman's dream come true. A little more exploring brings you to some interesting petroglyph sites, of which this is just one. I'm still trying for the perfect picture here, maybe one day I'll get better light at sunrise, but for now, this will have to do.
I've known of Crowley lake for a long time, and been underwhelmed by it for the most part. Just south of Mammoth on 395, it is popular with fisherman, and smells like it. But this year I found what lies at the end of a difficult dirt road on the far end. Scattered all along the eastern shore are wind and water scoured caves and delicate columns carved out of the soft volcanic rock walls. I have never seen anyone here, I think it is only recently truly accessible due to lowering water levels and that the water level may have been about where the columns now stand just a few years ago.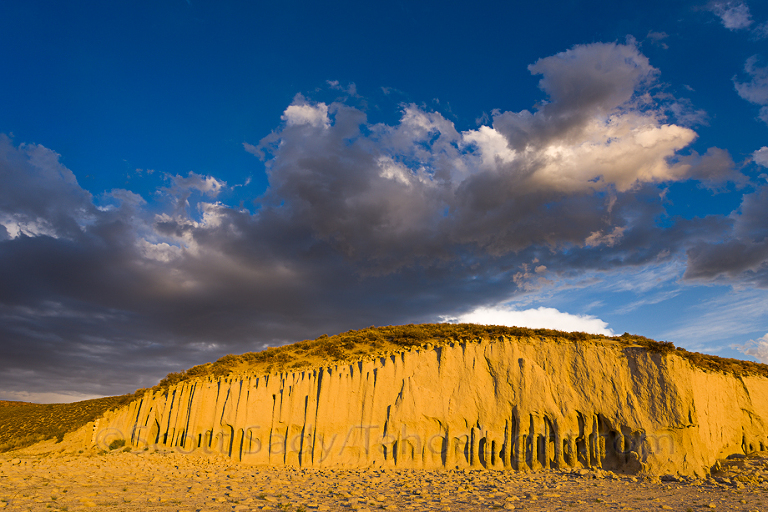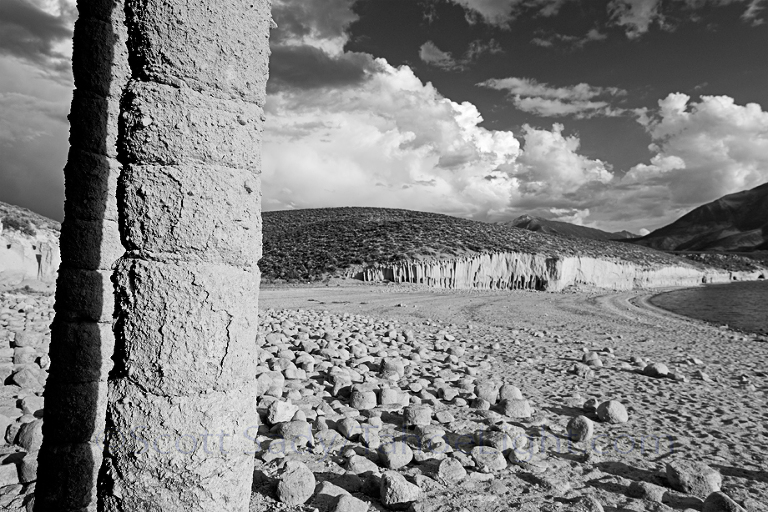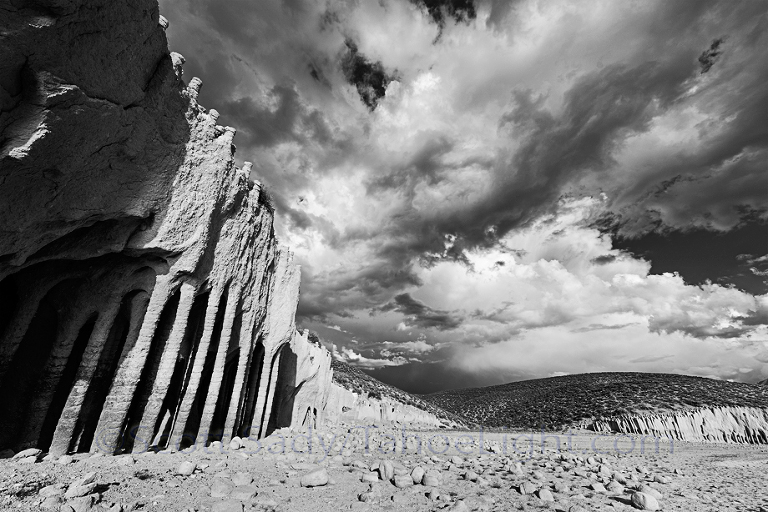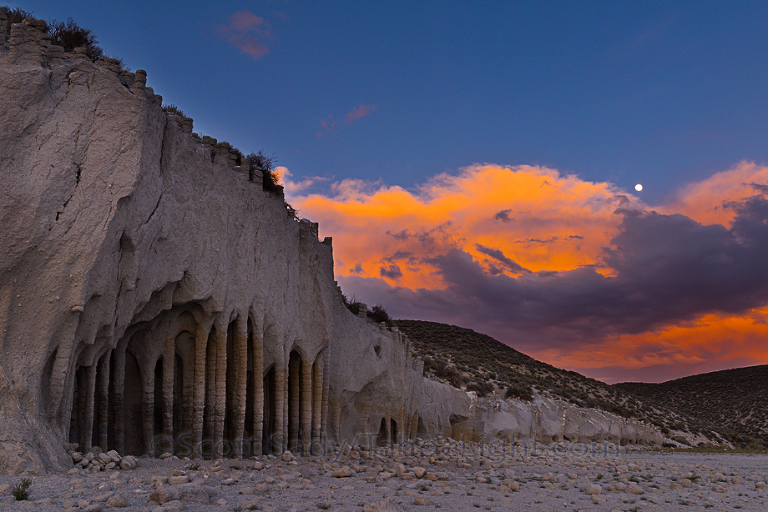 During my last set of races, I had more than a few days to spare and decided to check out Death Valley for the first time. I had driven through there, but never photographed it or explored. It is a very unique area, but plan carefully. This place is big. It seemed to me that everything I wanted to photograph was a 100+ mile round trip to get to, often on very slow and remote dirt roads. Given that and my limited time, I set myself only 3 things to check out. The Badlands, the Mesquite Dunes and the Racetrack. When you make the 26-mile, one-way drive on aggressive dirt washboard road to the racetrack to marvel at the mysterious moving stones, you soon find the answer to the mystery. This place is windy! Windy enough to blow 100lb rocks across wet playa clay. Windy enough to knock you down and blow your tripod over. Windy enough to cause sand-storms and white-outs. That was what it was like 2 out of my 4 days here. Zero visibility and eating dust. The only real upside of that was getting out onto the sand dunes one calm morning after a windstorm to find all the footprints erased and a pristine canvass awaiting. The Racetrack I had planned on photographing at night with the milky way rising over the stones, but the 50+ mph winds ruined that plan. I settled for a dusty sunset, but my impression is that sunrise would be better light out there. The badlands were just too dry. In years where there is a fair amount of water, the white, salt-crusted pentagons are more pronounced. When water is scarce, the edges tend to really curl up, ruining the symmetry. If you go to the racetrack, understand that you are on your own. The road is rugged and if your car breaks down there is no-one to help, no cell service, and a tow might cost as much as a new car. However, if you are careful, it is totally worth it. Not just for the racetrack, but for the desert wildflowers and the rugged volcanic landscape. Go in spring well after the last rains here. If you drive out here and the playa is still wet, consider that you just wasted an entire day. Because if you walk out onto a wet playa, your footprints will remain for up to 10 years. Most of the rocks I encountered had hardened footprints around them, ruining all photo potential. I had to walk miles to the far end of the playa to find even just a few pristine stones. So please, don't be an idiot. Check with a ranger if you don't want to risk wasting your time, but don't ever go out onto a wet playa!