by Scott
part 2 of 3
After leaving Jedediah Smith redwoods in northern California, we headed to the Oregon Coast. This was all new area to me, and in hindsight, we didn't spend nearly enough time here. The Oregon coast is to me, an idealized, romanticized version of the California coast, only without the crowds, infrastructure, hotels, private access and bloated costs. Really, places like Bandon Beach were absolute gems with no pretension and miles of amazing shoreline and rugged rock formations. Bandon beach is most impressive at sunrise and sunset if you can get some good color. Otherwise keep a tide chart and aim for a really low tide, where you will find rocks covered with starfish up to your head sometimes. We camped at Bullards Beach State Park just north of Bandon. Small, nothing special campground, but they did have free hot showers. From there it is easy to access all the coast from Bandon down to Cape Blanco, and all of it is worthwhile. If you are in Bandon at sunrise, keep your eyes out for the amazing sand labyrinths a local artist often draws in the sand. Many of these images can be purchased or licensed for use by searching my online archive.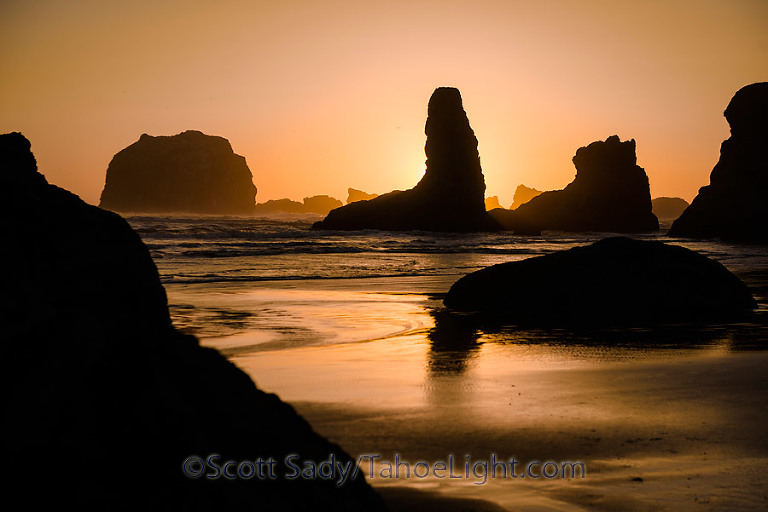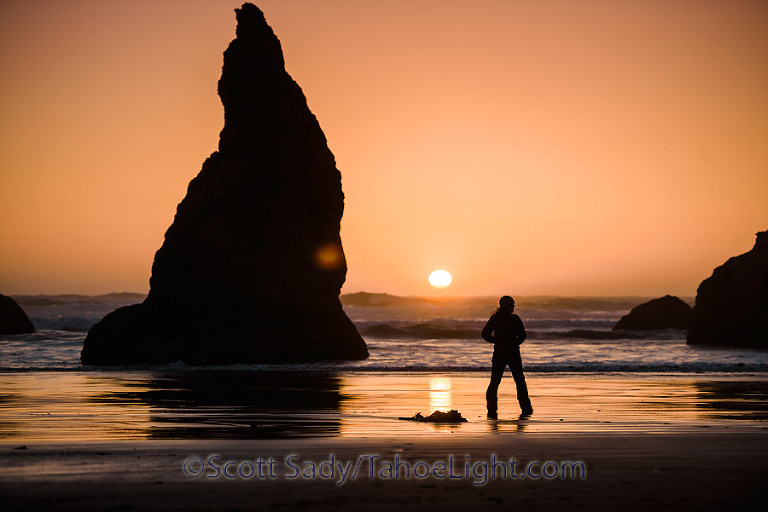 After a couple of days in Bandon, we gave ourselves one day to make Thor's well, then one more day to make Cannon Beach. Thor's well kinda pissed me off, but I have learned by it. There are some famous and amazing pictures of it on the internet, and that was what originally caught my eye, and apparently several hundred other people's eyes as well. Here is the bottom line. If you want a picture like you saw online, you need to have a combination of a very high tide, or moderate high tide with rough seas, AND a cool sunset or sunrise. The timing of our trip was such that low tides were hitting at sunrise and near sunset, so the stop at Thor's well was a bit of a waste for me. Also, to really get dramatic water pouring into the well, the seas are such that you are near to risking your life. Seriously! If you want the water high enough that it covers the plateau and drains beautifully into the well, then every 10th wave or so is going to come up to your knees at least, if not your waist.
After over-nighting at the Beach Side State Recreation area near Thor's well, we headed up to Cannon Beach. That was a mistake! There are two awesome areas between Thor's well and Cannon beach that should merit at least an overnight. The first is the Newport area. This includes the town of Newport, with its cool, working docks and historic downtown. Don't miss the Cioppino! Also the Yaquina Bay bridge heading out of Newport is very scenic, and finally the Yaquina head and Yaquina Bay lighthouses are worth waiting for some decent light. The Yaquina Head lighthouse has some amazing tide pools at low tide, and one of the largest colonies of Common Murre seabirds on the coast.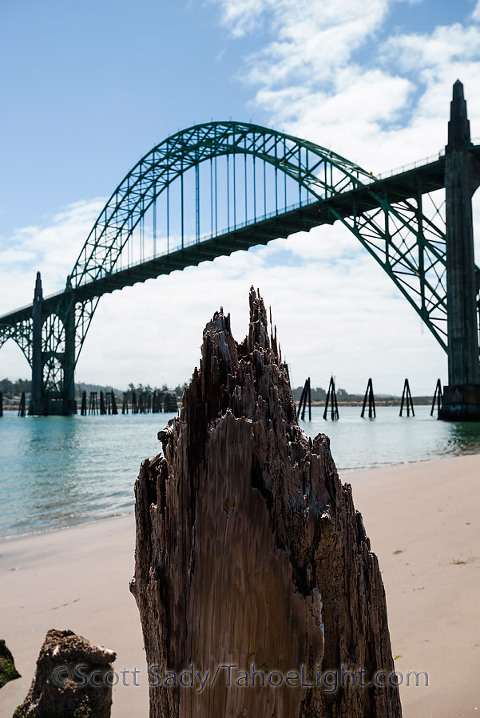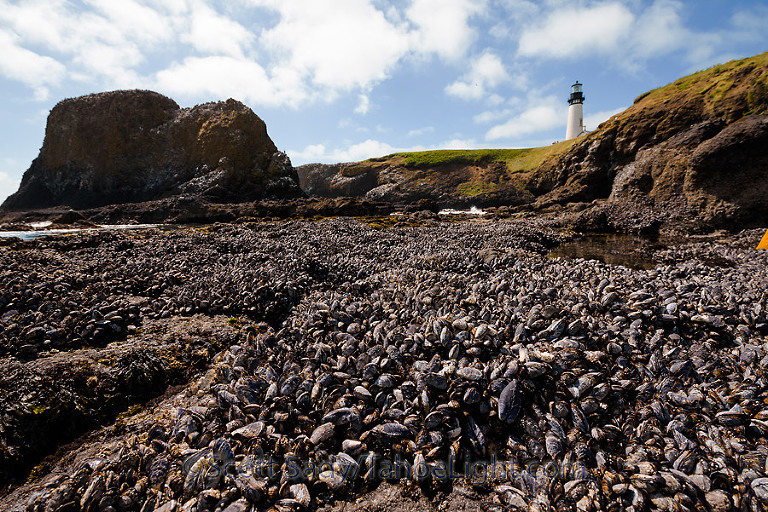 After exploring around Newport, we decided to have dinner at the Pelican Bay brewery right on the beach in Pacific City, a surf town next to the Cape Kiwanda state nature area. One of the main features of the town is a giant rock, called Haystack, that is every bit as impressive as the one that drew me to Cannon Beach, but without all the crowds. In addition to that, the Cape Kiwanda state nature area has some of the most scenic coastline we came across. If we hadn't already paid for our sites in Cannon Beach, we would have parked it here for a couple of days and made better pictures.
Since it was getting dark, we couldn't stop by the Tillamook factory and pick up any cheese, but the Tillamook Rock lighthouse is just south of Cannon Beach.
Cannon Beach proper was a bit crowded and built up for my tastes. The giant haystack rock that you see in so many pictures is packed with people milling about, though there is a large nesting Puffin colony there and Monique saw her first Puffin bird in the wild and was really excited about that. The Ecola state park just north of town has a lot of nice exploring to offer. The town of Cannon Beach itself has a hidden gem in Bills Tavern and Brew House. Small, local and not pretentious, this place had some of the best beer I tasted on the whole trip. I started with a seasonal Spruce Tip ale, brewed making a kind of tea out of the fresh budding spruce tips of the area. I expected it to taste piney, or pitchey, but somehow in the brewing process, the spruce tips imparted a light, but indescribably citrus finish that really went well with the hoppy ale. I am not a fan of fruity beers, but since we budgeted two days here, and I was visually underwhelmed (and it  was flat, grey and raining both days) I literally spent almost the entire next day happily sipping Spruce Ale and chatting with the locals while Monique explored some of the many antique shops in the area. Another favorite beer was the Sleepy Monk Coffee Stout. Nothing sleepy about it!